Whenever anyone asks me what want for Christmas I never know. I thought this year I'd actually sit down and think about it so I have a answer.  Of course I always want books but there are a few things I wouldn't mind having. I love giving gifts as much as I love getting them so I have so much fun picking them out, it's so much easier when I can read lists like this. Here's what I am hoping Santa will leave under my tree:
1. The World of Lore by Aaron Mahnke: I love his podcast so I know I'll love these.
2. Dare to Create palette from Morphe: The colors in this palette are just screaming my name. There are so many looks I could create with this.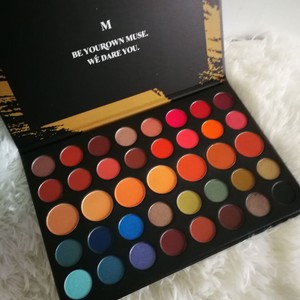 3. Modestly by Dina Torkia: I just love her, she's a YouTuber and a great one at that. She has such an infectious personality and I find her and her husband quite entertaining. I would love to meet her one day. I know that her big thing is modest fashion but I know this book has much more than that.
4. The Last Black Unicorn by Tiffany Haddish: I think this woman is absolutely hilarious. I would love both the physical copy of this book and the audio version. She just makes me smile and I could use all the comedy I can get right now.
5. Harrow and the Harvest vinyl by Gillian Welch: She is my top favorite female musician and Harrow and the Harvest is my favorite album by her. I know I would just love to hear her music on an old fashioned record player.
6. Yoga dice: I love doing yoga but I don't attend classes anymore since they're so expensive. So this would be a fun way to switch things up.
7. A new phone: I'm not sure which one I want but I just know the one I have needs to be replaced.
8. Gift cards: I always appreciate gift cards, especially if they're for Hobby Lobby, Michael's, Barnes and Noble, Sephora, Ulta or Forever 21.
I'm excited for Christmas and I hope you are to. What's on your Christmas Wish list?