*Disclaimer: There will be spoilers. I also do not own the rights to any of the images in this post.*
Okay so I know this show has had some up and down seasons and opinions definitely differ on which season is the best but I will say that whatever bad times Ryan Murphy was having with this show he has totally redeemed himself with this season. I think it is really good this year.
The first couple episodes were a little slow but the third episode really picked up. I think it's funny how the romance between Emily and Timothy was just swept aside. It appeared to be a main focus but it was nothing. I didn't expect everyone to die in the third episode but that's when I knew the witches were coming. It also makes sense that they would all die though since most of the actors play more than one role so it would get confusing for those who don't normally watch the show.  The story has developed so nicely and I am loving how they're bringing all the seasons together so far. The witches are here (finally) and I love the introduction of warlocks into the AHS world.
Myrtle Snow looking fabulous as always.
I LOVED seeing Mr. March again, Evan Peters is such a good actor. I kind of feel like it's a bit of a reunion series with all my favorite characters coming back.
I gotta say though that my favorite character so far is the anti-Christ himself, Mr. Michael Langdon. He's just wonderfully evil. Cody Fern plays this character so so so well and I am impressed. I am loving the development of his character, there are times where you can see his human side pop out for just a minute. The dichotomy is very well played.
Well it is clear that the witches have survived the apocalypse so what will happen now? I guess I'll find out tonight!
Best line: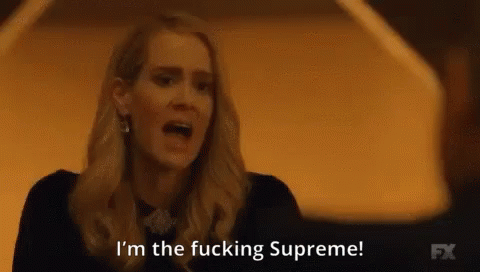 How are you liking the season so far? Who is your favorite character?